Impact investing through Realize Impact impact is done through a Philanthropic Investment Grant (PHIG). Click below to download the form.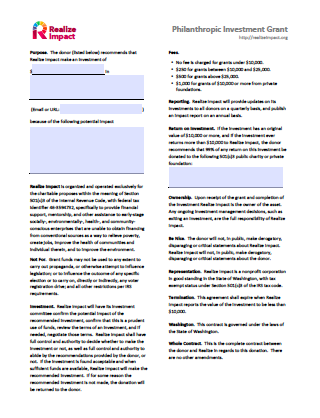 In short, you recommend an investment, tell us what impact you think it'll have, and then donate the matching capital. If the opportunity is open to others, we'll share it with every investor we know, to help turn your suggestion into a growing wave of impact. Later, if any capital is returned, we'll donate 99% to whatever donor advised fund, foundation, or charity that you suggest.
We do this for as low a fee as we can charge:
$250
$250 for investments of
$25,000 of less.
(from DAFs or individuals)
$500
$500 for investments
above $25,000.
(from DAFs or individuals)
$1,000
$1,000 for investments
from private foundations.
(for any size investment)
or free for any donation under $10,000*.
Contact us when you are ready to fill out the PHIG and recommend an investment.
---
Existing Investments or Something New
See Realize Impact existing investments, or contact us to recommend something new.