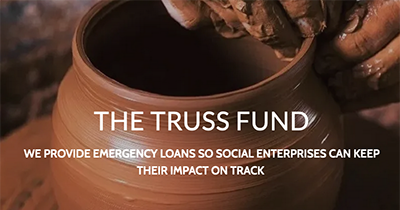 The Truss Fund is provides emergency, 0% interest loans
of up to $100,000 to market-driven social enterprises
aiming to end global poverty and protect the planet.
The Fund is designed for enterprises that have been
especially hard-hit by the pandemic, and who are graduates
of the GBSI Accelerator at Miller Center.
The Truss Fund is managed by Beneficial Returns, an impact investment debt fund that supports the growth of leading social enterprises that alleviate poverty and protect the natural environment in Latin America and Southeast Asia.
Invested $661,774
Realize Impact invested $664,774 into The Truss Fund, out of a total exceeding $750,000. This investment was recommended by seven people, with grants coming through Fidelity Charitable, Schwab Charitable, the Silicon Valley Community Foundation, from family foundations, and one donation of appreciated stock (which is why the amount is not a round number).
If you would like to join in this crowd or co-invest along side us, contact us.