Do you have questions about the Philanthropic Investment Grant (PHIG) service? The FAQ page answers the most frequently asked questions, and this page adds answers to the questions about distributions back from those investments.
Recapping the simple three-step process:
A.
Make a grant from your donor-advised fund, foundation, or your own funds, recommending an impact investment.
B.
Realize Impact does the diligence, reviews the terms, and makes the debt, equity or revenue-based investment.
C.
We donate 99% of the investment returns to your recommended DAF, foundation or other 501(c)(3) nonprofit.
1. Does the 99% have to go back to my DAF?
No. When you fill out the PHIG form to recommend the investment, you also recommend a 501(c)(3) where those investment returns will get donated. You can choose any 501(c)(3) in that process.
2. Can I change my mind?
Yes. Before any donation is made from Realize Impact to a recommended 501(c)(3), we first check with the donor to ensure their recommendation has not changed.
3. Can I recycle those funds into another investment?
Yes. If you have another investment recommendation to make, it saves everyone time and effort to simply recycle that capital into a new investment.
4. How long between Realize Impact receiving a repayment and a distribution to the recommended 501(c)(3)?
It depends on the size of the repayment.
Most DAF Sponsors don't want to deal with small donations, and thus when Realize Impact receives less than $10,000 from an investee, we wait for another quarter, hoping to aggregate more capital into each distribution. But no matter how small, we distribute whatever the total is after the end of the calendar year.
When a "significant" size repayment occurs, e.g. $100,000 from an investment that originally cost less than $100,000 or for $200,000 from any size investment, we aim to distribute that capital out within 45 days.
For any amount from $10,000 to "significant", distributions are made quarterly, in the month after the end of the calendar quarter.
5. Do I need to notify my DAF of the donation?
Sometimes. Some DAF Sponsors find it sufficient when a bank wire from Realize Impact specifies the DAF name and account number. Some DAF Sponsors require a form to be sent in by the account holder.
6. Has Realize Impact made distributions to _____ before?
We've made dozens of donations to 501(c)(3)s from investment returns back to the DAF listed in our infographics, plus some donations to public charities, plus a few recycled investments. The only challenges we've faced in this part of the service are the few DAF sponsors that require a donor to fill out a form before money is donated into a DAF.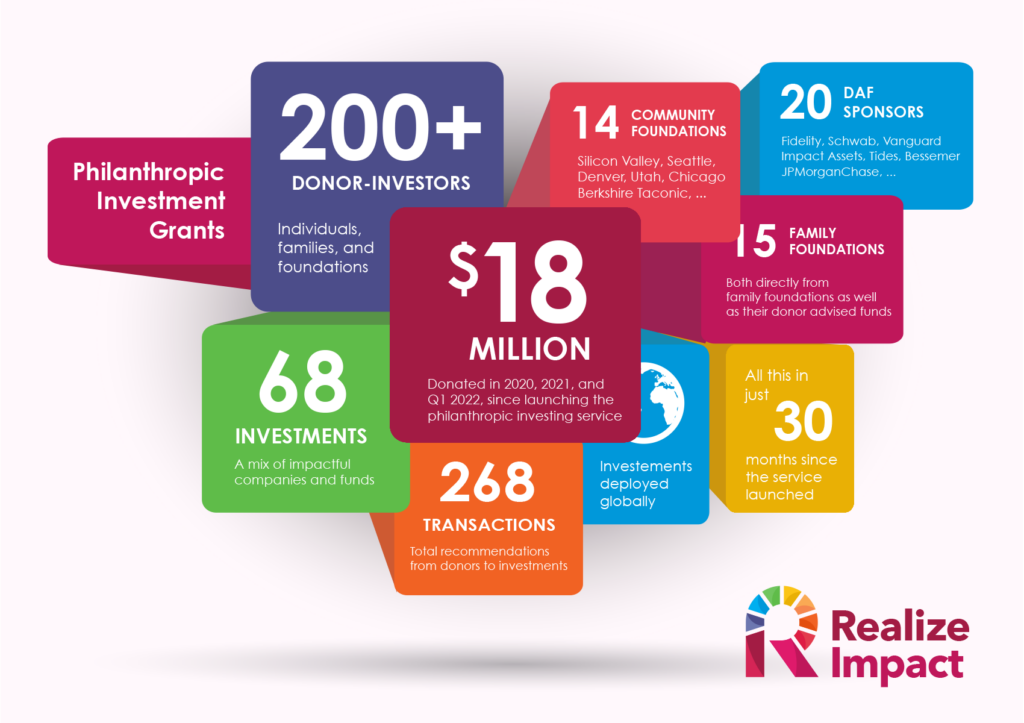 8. Can I just leave the money at Realize Impact?
No, not unless you don't want it back. Realize Impact is not a DAF. We don't manage accounts with cash balances for donors. You are welcome to donate your distribution to Realize Impact (we are a public charity), but we prefer donations that get invested, so we prefer if you don't want the money back, we prefer you recommend a new investment. If you are short of ideas for that, take a look at the funds that Realize Impact manages or look at the latest Liist.